Wind power. Energy that demands excellence.
Wind energy of today: Higher generator power, stronger transformers
Practically no other sector is as demanding as the wind power industry when it comes to electrical systems. An active power rating of 2.3 to 2.5 MW means an apparent power level of 2500 to 3500 kVA at the transformer – and the power being generated will fluctuate widely. Energy installations of this kind need fuses that will not age within just a few years and then possibly shut down prematurely without an overload. SIBA SSK fuse links are the right alternative – thanks to ICS technology they deliver real durability and cyclic stability and are highly recommended for the regular maintenance that is required on wind turbine systems.
What sets SIBA fuses apart from the rest
ICS technology reduces aging
Using ICS technology with specially designed fuse elements prevents premature material fatigue due to cyclic loading, which is a common feature on wind turbines.


Short-circuit protection
SIBA SSK fuses react faster than the standard type. In the event of a short-circuit they limit the residual current as soon as there is a rise in the first half-oscillation.


Lower power output, less heat
Our SSK fuses have a lower power dissipation than standard fuses – while retaining the same minimum breaking current. This also reduces the heat load.


Compact size
Our SSK fuses for the wind power industry are significantly smaller than comparable backup fuses but have the same rated currents.


What our fuses provide
Less cost, greater security
Fuses that last longer save on maintenance costs and at the same time provide greater security for men and machines, as breakdowns become less frequent.


Saving energy and CO2
SIBA SSK fuses consume less power and so not only save up to 30% energy but also cut CO2 emissions accordingly.


System design benefits
With SIBA SSK fuses a more favourable load switch-fuse combination can be used in place of the power switches that would normally be needed to meet the thermal thresholds.


Space-saving layout
Smaller fuses save on the limited space available at the switchboard – and more compact switchboards are easier to install in the wind turbine.


First choice for wind power: SSK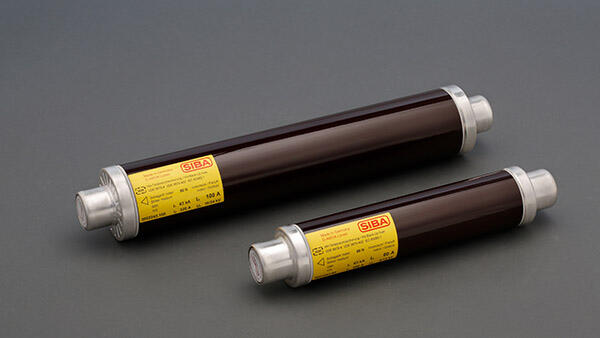 Rated currents from 63 to 160 amperes.
Three ranges of rated voltage: 6/12 kV, 10/24 kV und 20/36 kV
Click here to directly get product data of our ssk-fuses for wind power